賽馬會善樂學校
( Jockey Club Sarah Roe School)
賽馬會善樂學校 基本資料 (2022-23)
︿
校 更
方 新
專 資
用 料
﹀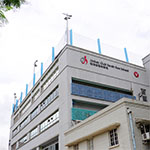 賽馬會善樂學校(Jockey Club Sarah Roe School)是位處於九龍城區的一所國際學校。 學校為學生提供小學(Primary)、中學(Secondary) 的課程。
學校簡述 (School Description):
關於英基
英基學校協會(英基)是香港最大規模的國際學校機構。英基轄下共 22 間學校及開辦的各類課後活動課程, 致力透過個人化的學習模式及啟發創意思維, 令每一位學生均能盡展所長。 英基屬下幼稚園、小學、中學及「一條龍」學校的 18,000 名學生分別來自 75 個國家。
賽馬會善樂學校
賽馬會善樂學校 (JCSRS)是香港唯一一間為有個別需要學童而設的英文學校。學校支援很多不同種類的學習需要,包括中度、嚴重或複雜的學習障礙以及自閉症。學生的年齡由五至19 歲。學校的課程個人化、進取及有挑戰性,適合所有同學。學校致力發揮兒童和年輕人最大的潛力,並通過與其他機構的協作計劃,幫助學生過渡到主流教育。 我們的教師資深且經驗豐富。每個孩子都有專屬他們的個人教育計劃,其中包括讀寫、數學、溝通、個人和社會教育,按他們需要由跨專業的治療師團隊提供支援。所有學生在畢業時都會獲得由 ASDAN 認可的成就記錄和作業概覽,而ASDAN 是一個獲得持續教育、商業和工業認可的資歷認可機構。
級別 (Level)
幼稚園(Pre-school):
小學(Primary):
中學(Secondary):
學費 (School Fee)
HK$119,100-159,300
學生年齡 (Age of students)
5-18
性質 (Status)
Non-profit making
提供的學額 (Places offered)
70
創辦年份 (Year of establishment)
1985
學校的聯絡資料 (Contact Information)
地址(Address):九龍何文田天光道2B號
電話 (Tel):
27619893
傳真 (Fax):23814081
電郵 (Email):
info

jcsrs.edu.hk
網址 (Website):
https://www.jcsrs.edu.hk/
賽馬會善樂學校詳細資料 (Additional Information)
課程 (Curriculum)
Individualised programmes to foster learning and development. Thematic approach for primary students, ASDAN programme for secondary. Both activity-based.

主要教學語言 (Primary medium of instruction)
English

為來港的海外家庭而設的特別安排 (Special arrangement for incoming families)
It is possible for online applications to be submitted for admissions to ESF while families are overseas and before relocation to Hong Kong.

財政資助╱獎學金 (Financial assistance / scholarship)
ESF's Financial Assistance Scheme is available for families who have encountered "sudden and unexpected" change of circumstances during the period of 12 months immediately prior to date of application.

為有特殊教育需要的學生提供的支援 (Support for students with special education needs)
The school is a specialist resource that supports students with a wide range of individual needs, ranging from students with severe to moderate intellectual disabilities. Some students have complex disabilities and we have many students with autism. Age range is 5 to 19.

可供租用的設施 (Facilities for hire)
Please contact the school for further details.
賽馬會善樂學校 收費詳情 (2022-23)
班級(Class)
學費(Fee)
年齡(Age)
*半日(half-day) ^(IB)
規劃前往賽馬會善樂學校的交通安排
全港國際學校
按最貴的學費排序
Sorted by the highest fee
Pre-school
Primary
Secondary
Fee
Medium of Instruction