耀中國際學校 (根德道2號校舍)
( Yew Chung International School (2 Kent Road) )
耀中國際學校 (根德道2號校舍) 基本資料 (2022-23)
︿
校 更
方 新
專 資
用 料
﹀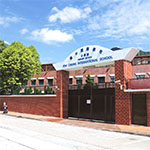 耀中國際學校 (根德道2號校舍)(Yew Chung International School (2 Kent Road) )是位處於九龍城區的一所國際學校。 學校為學生提供幼稚園(Pre-school)、小學(Primary) 的課程。
學校簡述 (School Description):
Yew Chung International School - Secondary,
located at 3 To Fuk Road, Kowloon Tong, continues the YCIS 'through-train' education. Within the Yew Chung International School Primary Section, there are many educational features that help to provide a truly international school experience. • A Bilingual Curriculum – The YCIS Primary school curriculum is based on the framework of the National Curriculum for England with the added benefit of an extensive Chinese Language and Culture Programme. • Co-Teaching – YCIS Primary school has co-teaching system in the classrooms where one Western and one Chinese teacher help to implement a bilingual learning environment. The co-teachers share equal authority in the classroom and work together on lesson plans and within class time. • A Fully Rounded and Balanced Education – YCIS Primary school includes a wealth of different subjects including English Language, Chinese Language, Chinese Culture, Mathematics, Science, Information and Communication Technology, Topic studies - Science, History, Geography, Art and Design, Performing Arts, including Choral and Instrumental and Physical Education. • Character Education – Within the YCIS Primary school, students are encouraged to respect all people and cultures from the first day of school. Each month, different positive character traits are studied in the form of projects, assemblies and role-play situations.
級別 (Level)
幼稚園(Pre-school):
小學(Primary):
中學(Secondary):
學費 (School Fee)
HK$123,343-239,450
學生年齡 (Age of students)
3-11
性質 (Status)
Non-profit making
提供的學額 (Places offered)
1,018
創辦年份 (Year of establishment)
1985
學校的聯絡資料 (Contact Information)
地址(Address):九龍九龍塘根德道2號
電話 (Tel):
23387106
傳真 (Fax):23046713
電郵 (Email):
admissions

ycef.com
網址 (Website):
https://www.ycis-hk.com/
耀中國際學校 (根德道2號校舍)詳細資料 (Additional Information)
課程 (Curriculum)
International Curriculum based on the National Curriculum for England

主要教學語言 (Primary medium of instruction)
English, Putonghua

為來港的海外家庭而設的特別安排 (Special arrangement for incoming families)
Families can organise private school tours by appointment with our Admissions Department.

財政資助╱獎學金 (Financial assistance / scholarship)
Existing families may apply for fee assistance if necessary.

為有特殊教育需要的學生提供的支援 (Support for students with special education needs)
YCIS has a strong educational and values-based view that every child is entitled to a quality education. YCIS has a strong academic focus and as such, resources are focused in this direction. There are limits to the range of special needs services provided, resources obtainable and specialist expertise available within the school. YCIS can only cater for students with mild learning difficulties/ disabilities, i.e. those children who can work successfully in a regular classroom environment with minimum support.

可供租用的設施 (Facilities for hire)
Nil
耀中國際學校 (根德道2號校舍) 收費詳情 (2022-23)
班級(Class)
學費(Fee)
年齡(Age)
*半日(half-day) ^(IB)
規劃前往耀中國際學校 (根德道2號校舍)的交通安排
全港國際學校
按最貴的學費排序
Sorted by the highest fee
Pre-school
Primary
Secondary
Fee
Medium of Instruction